HEAD SPINNING, LOOP CREATING
Head Spinning, Loop Creating
curated by Nicolette Teo
Head Spinning, Loop Creating is an exhibition that takes different experiences with anxiety and adapts it into a physical space. The works are reimaginations of previous works done by the artists, with new adaptations made based on the given exhibition space. By showcasing different experiences of individuals that face anxiety, be it large or small, the show hopes it generates an understanding that anxiety is a part of life. It also hopes to bring what is usually silent and not discussed to the forefront. The exhibition explores the inner workings of the mind - aspects of space, cycles, control and journey are touched on by each of the artists as they relate their experiences through their works.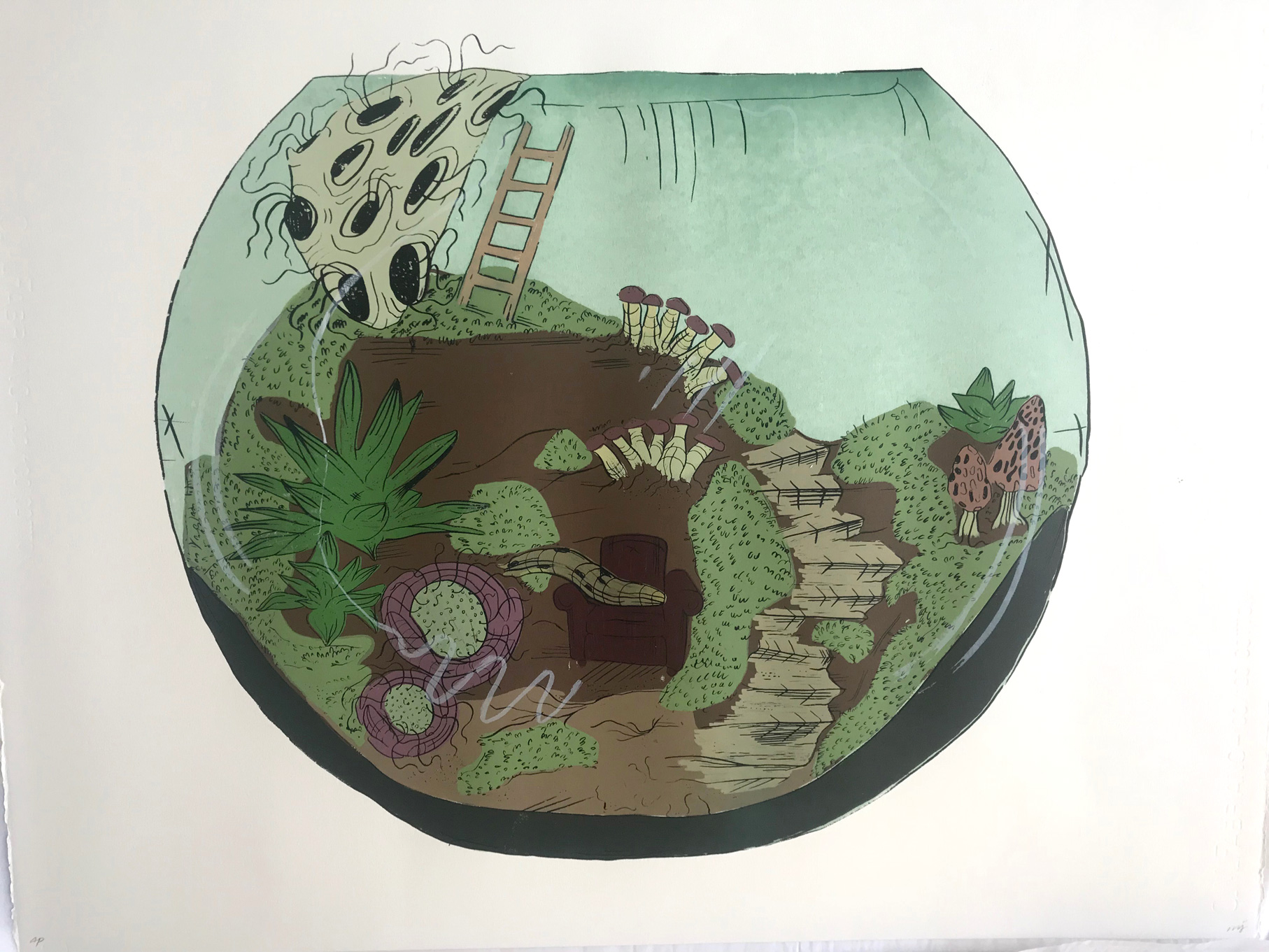 Nicolette Teo is an artist/curator who has received a BA(Hons) Fine Arts in LASALLE in 2017. Her work delves into finding ways to deal with problems or issues. Mainly stemming from anxiety and the state of worrying, she create situations and scenarios to generate instances of calmness. Her practice looks to locate and create different methods of coping with problematic scenarios and emotional imbalances. It gives idiosyncratic yet practical methods of dealing with problems of uncertainty. She is currently also one of the assistant curators working with TCC and LASALLE as part of their partnership to curate artworks for TCC cafes nationwide.
Yoo Seung Gi was born in South Korea and was educated there until the age of 10 when her family moved to Singapore in 2006. From 2010 to 2014, she was educated in School of the Arts Singapore and she specialised in Ceramics. After graduating from SOTA, Seung Gi continued her Diploma and Bachelor in Fine Arts program in LASALLE College of the Arts from 2015. She is currently in her second year of Bachelor, and she works with painting and sculpture. Her choice of mediums varies from time to time. She usually likes to experiment with different materials.
Mithra Jeevananthan is a Singaporean visual artist with a BA in Fine Arts from Lasalle College of the Arts. She specialises in Printmaking and paper cutting. Predominantly influenced by manga art, she draws inspiration from the illustrative art style. She attempts to provoke a subtle and paradoxical sense of silent horror and the fluidity of sexuality through her prints. Her current research focuses on the cyborg theory to mental health. With the intention of giving the viewer multiple interpretations of the headspace as a landscape, the act of obsessive daydreaming and "ero guro nansensu", she attempts to challenge their morals and ethics. Her current body of work shifts from depicting her chimeric entity, the Lotus in different visual landscapes in her prints to the obsessive cutting of paper.
Employing a range of mediums that mainly includes found objects and moving images, Kheyton Lim explored subjects of domesticity, including idiosyncrasies, sexual identity, and affects etc. Taking departure from lived experiences, his research practice helps him to reexamine his status as both a subject and a supposed happy object primarily within the predominantly heteronormative family unit. Kheyton is a BA(Hons) Fine Arts graduate from LASALLE College of the the Arts, Singapore.
/23 JUN – 22 JUL 2018/
BLOCK 7 / GILLMAN BARRACKS / SINGAPORE
Head Spinning, Loop Creating is one of the winning proposals selected as part of the Breaking Wave Open Call.